Blind Faith: How to Flip Doubt into Certainty - GUIDED MEDITATION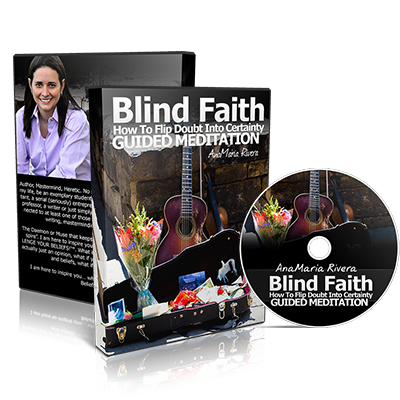 Blind Faith: How to Flip Doubt into Certainty - GUIDED MEDITATION
This soft meditation program will generate BLIND FAITH brain patterns that will help you eliminate doubt from your life!

You will receive this downloadable GUIDED MEDITATION CD that I personally recorded to empower your brain into creating new patterns for disappearing doubt from your mind and your life.
Follow this Guided Meditation daily, for at least 21 days and after that, listen to it as many times as you want. This Guided Meditation is an incredible cutting edge tool to effectively transform your life.
Blind faith: How to convert the doubt to certainty
Copyright © 2012 by AnaMaria Rivera
Deep Heresy
Copyright © 2012 por AnaMaria Rivera
Cover picture: Musica
Copyright © 2012 by equiX Photography – Ximena Toro Walden
Guided Meditation CD
Copyright © Kitaro
Copyright © Dan Gibson
Copyright © AnaMaria Rivera
No part of this publication may be reproduced or transmitted in any form or by any means, mechanical or electronic
including photocopying or engraving or by any storage system, or transmitted by email without prior written consent from
the author. Copying or distribution of this material by any means, without permission, is strictly prohibited. Violators will
be pursued with the weight of the law.
This publication is not intended for uses such as legal, medical or psychological advice, and the material in this publication
is for informational purposes only. The author, Publisher, and distributor of this product doesn't assume any responsibility
for the use or misuse of this product, nor of any physical or mental injury, damage and/or financial losses as a result of the
use of this report.
The information presented in this document represents the views of the authors at the date of publication. The author
reserves the right to alter and update their views based on new research or discoveries.
The Guided Meditation CD must be listened to in a place that don't require attention. Do not listen while driving or while
operating heavy machinery or while performing activities that require attention or concentration. The author is not
responsable for the use given to this product or the implications that could arise from it's improper use.