Blind Faith: How to Flip Doubt into Certainty (eBook)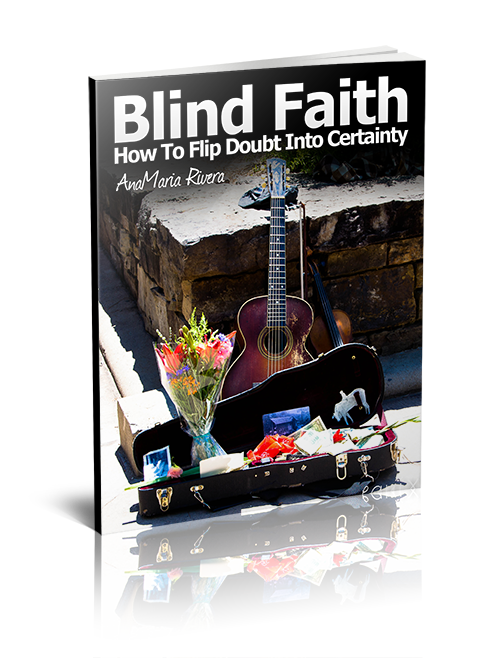 Blind Faith: How to Flip Doubt into Certainty (eBook)
Are you ready to put an end to fear in your life? Do you want to stop doubting yourself? Have you experienced the devastating effect that doubt has on your relationship and your results in life?
BRING BLIND FAITH INTO EXISTENCE!!!
Doubt is the enemy that builds inside your mind and destroys your self-confidence, creating fear and diminishing your power and your results.
And doubt can be removed from your mind and your life by flipping it into certainty.
In this DEEP HERESY eBook you will find a short guide on how to create blind faith in your life, you will find the answers to these questions:

• What does Heresy mean?
• What is Deep Heresy?
• Why is doubt the "enemy" in your life?
• How does doubt lead to fear?
• How to remove the doubt that limits us?
• What is "Blind Faith"?
• Why "positive thinking" alone is not enough to transform your life and create visible results?
• Why our rational mind sometimes works against us?
• How to create Blind Faith?
Deep Heresy
Copyright © 2012 by AnaMaria Rivera
Cover picture: Urban
Copyright © 2012 by equiX Photography – Ximena Toro Walden
Guided Meditation CD
Copyright © Kitaro
Copyright © Dan Gibson
Copyright © AnaMaria Rivera
No part of this publication may be reproduced or transmitted in any form or by any means, mechanical or electronic including photocopying or engraving or by any storage system, or transmitted by email without prior written consent from the author. Copying or distribution of this material by any means, without permission, is strictly prohibited. Violators will be pursued with the weight of the law.
This publication is not intended for uses such as legal, medical or psychological advice, and the material in this publication is for informational purposes only. The author, Publisher, and distributor of this product doesn't assume any responsibility for the use or misuse of this product, nor of any physical or mental injury, damage and/or financial losses as a result of the use of this report.
The information presented in this document represents the views of the authors at the date of publication. The author reserves the right to alter and update their views based on new research or discoveries.
The Guided Meditation CD must be listened to in a place that don't require attention. Do not listen while driving or while operating heavy machinery or while performing activities that require attention or concentration. The author is not responsable for the use given to this product or the implications that could arise from it's improper use.
AnaMaria Rivera
www.anamariarivera.com